PENELOPE HAS A VOICE
by Eulalia Valldosera
Bio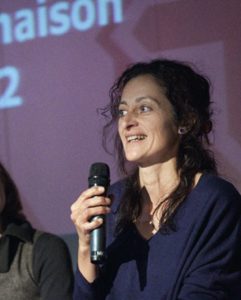 Eulalia Valldosera (born near Barcelona in 1963) has developed a body of work demystifying the status of the artist as a unique creator, conceiving herself, in her own words, 'as a producer of meanings, rather than as a producer of works'. This process began with her questioning the conventional representation of women and, hence, recuperating areas of femininity that were vanishing within a male-dominated world of work. Eulàlia has explored the notions of sexual identity, love, illness and death as well as issues related to memory and the ways in which we reconstruct our past.
Through a dynamic practice that interweaves photography, performance, installation and video, Valldosera engages in an elusive theatrical portrayal of our identities, placing her body, our body, as a measure and referent of all experience. Known worldwide by her light and shadow projections where technology coexists with simple everyday objetcs, she's been transforming museum's spaces to recreate what she calls the 'house of the Self' as a way to explore the collective psique and to speak directly to our unconscious and hidden believes.
Her last cicle of works are based on her hability as a medium or channeler, and focuses on historical spaces and Nature conceived as an archive of memories that she's able 'to unveil and reconstruct in order to restore our habilities of healing ourselves and our ecosystem'. Such vindication of our innate telephatic potential as humans allows her 'to give voice to those who are absent in the social dialogue' and to spread her believe on the healing power of art on her works, texts and workshops.
Eulalia Valldosera (nacida cerca de Barcelona en 1963) ha desarrollado un cuerpo de trabajo que desmitifica el status de la artista como creador único, concebiéndose, en sus propias palabras, «como productora de significados y no como productora de obras». Este proceso comenzó cuestionándose la representación convencional de la mujer que la llevó a querer recuperar las áreas de feminidad que se desvanecen en un mundo dominado por los hombres y su modo de concebir la esfera del trabajo. Eulàlia ha explorado las nociones de identidad sexual, amor, enfermedad y muerte, así como cuestiones relacionadas con la memoria y las formas en que reconstruimos nuestro pasado.
A través de una práctica dinámica que entrelaza la fotografía, la performance, la instalación y el vídeo, Valldosera se dedica a una elusiva representación teatral de nuestras identidades, colocando su cuerpo, nuestro cuerpo, como medida y referente de toda experiencia. Conocida mundialmente por sus proyecciones de luz y sombra, donde la tecnología coexiste con simples objetos cotidianos, ha estado transformando los espacios museísticos para recrear lo que ella llama la "casa del Ser" como una forma de explorar el psique colectivo y hablar directamente a nuestro inconsciente y creencias ocultas.
Su último ciclo de obras se basa en su habilidad como medium o canalizadora, y se centra en los espacios históricos y la Naturaleza concebidos como un archivo de recuerdos que ella es capaz de "desvelar y reconstruir para restaurar nuestras habilidades de sanación a nosotros mismos y nuestro ecosistema". Tal reivindicación de este potencial telepático innato en los seres humanos le permite "dar voz a aquellos que están ausentes en el diálogo social" y a difundor su creencia en el poder curativo del arte tanto en su obra como en sus textos y en sus talleres.